Christian Brekken believes this. He is a new R&D agent at Herøya Industripark AS and SINTEF Industri TelTek. He has a long career as a SINTEF/NTNU researcher, 10 years in biophysics and 15 years in the oil and gas industry. Now he is ready to help R&D projects succeed at Herøya.
Quickly finds projects that fit into current research
"There are many industrial cases here at Herøya and in the region, which fit into current research," says Christian Brekken. As an example, he points to CO2 capture and CO2 capture technologies, hydrogen and ammonia. Much is about CO2, but there is also great potential within the metallurgical industry and the circular economy.
A number of R&D collaborations
Brekken talks about a number of exciting R&D collaborations with industrial companies that are happening now.
"Herøya Industripark AS participates in around 10 R&D projects linked to the EU, Research Center for Environmentally Friendly Energy (FME), CLIMIT and others, usually in collaboration with universities and institutes.
Herøya Industripark AS is serious about investing in Research and Development and participates in various ways, both as advisers and partners. In a way, I am an agent for R&D, a new developer resource that will contribute to Herøya Industripark AS becoming even better at R&D collaboration, with SINTEF and others."
Major project – build CCU pilot at Herøya
PYROCO2, a 400 million NOKs EU project and construction of a pilot at Herøya, was launched in September 2022.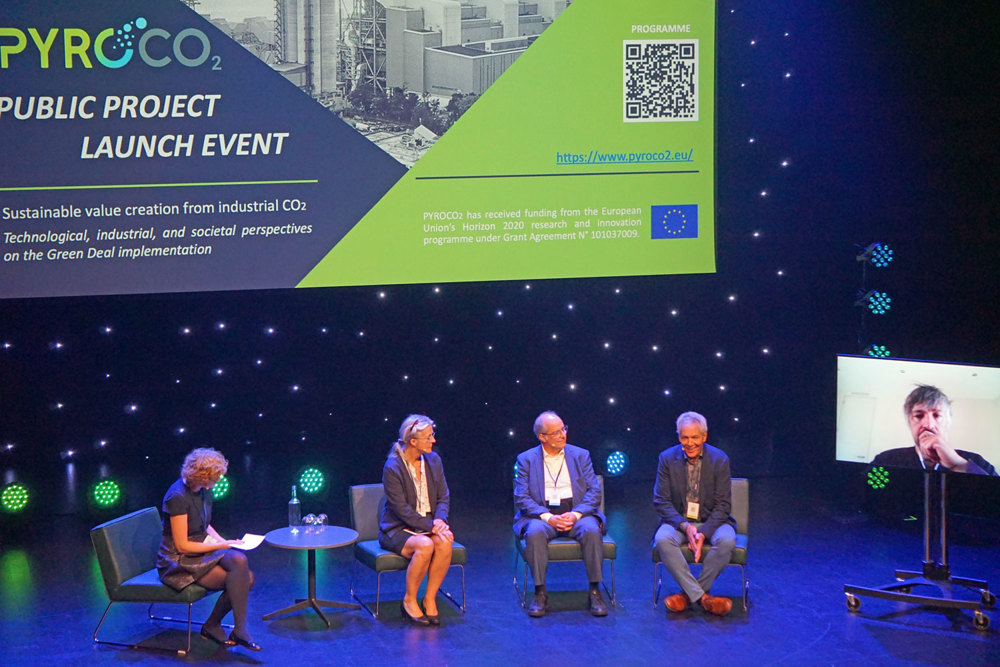 "PYROCO2 is a huge project, and the most important activity I am involved in for Herøya Industripark AS at the moment," says Brekken. "The project is now being built up with process design in Italy and Spain, small-scale tests in Denmark, Trondheim and Stavanger, before everything finaly is put together here at Herøya," he explains.
Brekken leads the activity at Herøya Industripark AS and has recently started work on tender processes. PYROCO2 plan to build a pilot plant at Herøya and the project will demonstrate the profitable production of acetone with, among other things, CO2 as a raw material.
Carbon Management a big thing
In the PYROCO2 project, the carbon enters in one form and exits in another. It is a so-called CCU project (Carbon Capture and Utilization), where CO2 is converted into acetone, a solvent which is the main ingredient in e.g. nail polish remover, but also a chemical used in a number of other industries and products.
"Carbon Management is a big thing in the world today. CO2 is at the bottom of the ladder, waste, it's not worth anything, and only creates problems. But now we manage to lift it up into something that can be used and then it gains value," says Brekken.
Absolutely awesome to use biology
"It is a completely awesome project in many ways, because you use biology, microorganisms to convert CO2 into a product that can be used for something else," says Brekken enthusiastically. He is particularly passionate about biology, having also researched cancer medicine for many years.
"When this succeeds, it will be a rather unique process, where biotechnology (fermentation) on an industrial scale can contribute to reducing the climate problem. It's a very exciting way to do it. I think that playing on teams with microorganisms can be part of the solution to our future," he says.
"We know that microorganisms can be dangerous, reference to viruses, but on the other hand they can be very good helpers. In this case we will use genetically modified organisms that have been developed and specifically made for maximum production of acetone from CO2. It is very interesting. I hope we get some cool pictures of the organisms to show off eventually."
"Has this been done before?"
"It has been done on a lab scale, but not on an industrial scale as we are going to do here."
Opportunities for local business
Brekken talks about the purchase of equipment for millions.
"First we invite companies to register an interest, then a more formal invitation to tender for supplies of equipment and services will follow. We know that there are suppliers here who can offer what we need, so there are great opportunities for local businesses to participate."
Case-Factory Herøya
Only a short time ago, Brekken was one of SINTEF's 1,500 researchers associated with Trondheim.
"Everyone follows closely what happens at Herøya, including the R&D environments in Trondheim. That was part of the reason why I wanted to come here," says Brekken, very satisfied with new R&D tasks close to the industrial companies.
"Herøya is like a case factory, there is not a single research project that cannot find a suitable partner here," he advertises.
Text/photo: Siri Krohn-Fagervoll   siri@krohnfagervoll.no 
09. February 2023